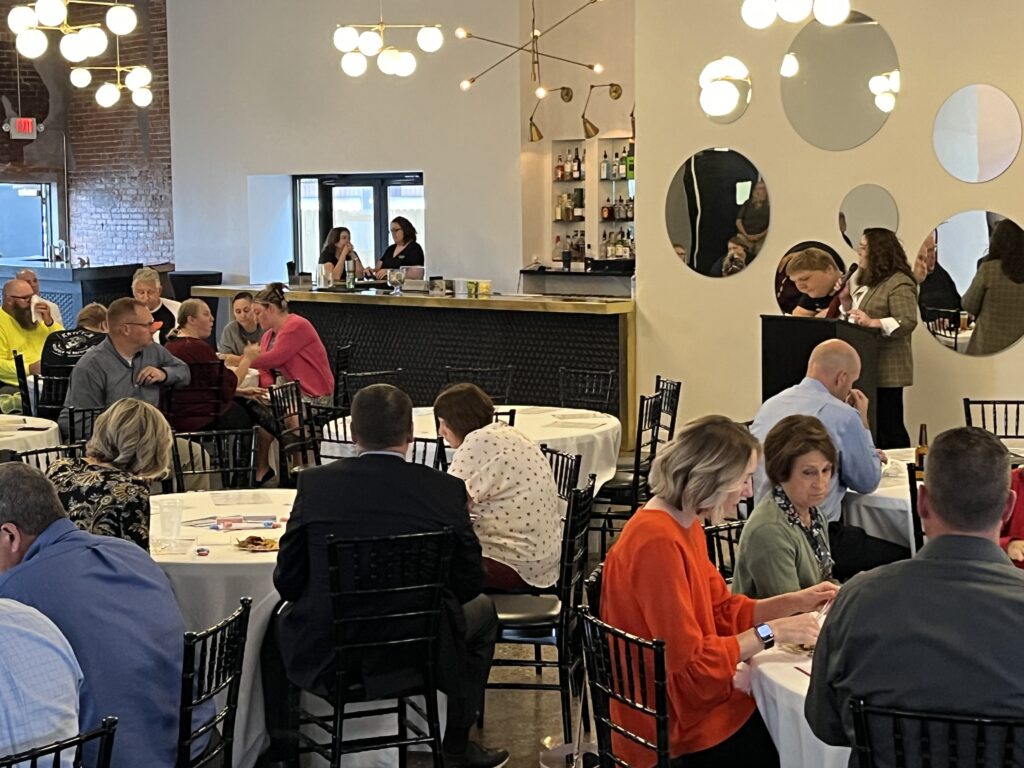 Hannibal Regional Economic Development Council members met on October 11th at the Rialto Banquet Hall in Hannibal for their annual meeting and reception.
Hal Benedict, HREDC Board President, welcomed the audience and thanked them for their past and future support of HREDC. He gave a summary of the Executive Director selection process and introduced HREDC's new Executive Director, Maria Kuhns.
Maria Kuhns, gave remarks regarding some of the successes of 2023 as well as plans for 2024. 2023 saw many expansion projects from area employers including Doyle Manufacturing with an expansion generating $5 million in revenue and 50 jobs and the Jones Poultry expansion into the former Buckhorn building generating $6 million in revenue and 50 jobs.
2023 was also a big year for workforce development in Marion and Ralls Counties. The Hannibal Public Schools purchased the former Sutherlands Building with assistance from state and federal legislators to expand the Hannibal Career & Technical Center. Koontz Builders also broke ground on a 52-unit multi-family housing project.
Sean Freeman, who will start with HREDC on October 16 th introduced himself and shared his excitement to get started working in the Missouri Small Business Development Center at HREDC. The Missouri SBDC at HREDC provides no-cost one-on-one counseling for small businesses in a seven-county region. Kuhns shared that the Missouri SBDC at HREDC has assisted over 250 businesses since it's organization in 2020. The SBDC has played a role in starting 25 businesses and
securing $6.5 million in small business financing.
Hannibal Area CEO Board member Hunter Baggett gave an overview of the newly launched Hannibal Area CEO program. The Hannibal Area CEO program is the first of its kind in Missouri and was chartered in Hannibal due to efforts from the Hannibal Area Chamber of Commerce and HREDC.
Looking forward to 2024, Kuhns shared that HREDC will be placing an emphasis on business retention and expansion visits and strategic planning for the two counties. HREDC will also be exploring new opportunities for promoting the region through a marketing campaign and attending
national events.
HREDC works to promote financial investment in Hannibal, Palmyra and Marion and Ralls Counties. For more information on the organization, please visit their website at www.hredc.com.