Hannibal, MO. – On Wednesday September 15, the Ignite Program held another event for local entrepreneurs. Approximately twenty individuals attended the event at the Mark Twain Museum including small-business owners, bank representatives, CPAs, and other business support organizations. The event was sponsored by Trust GDC, who provided light refreshments for the guests. The event provided business owners with the opportunity to mingle and build relationships with each other, as well as with local professionals.
In addition, the event included a presentation by local CPA Brett Park entitled Financial Management Through a Distressed Situation. Most businesses have or, at some point, will encounter a period of financial distress. Brett talked about equipping business owners with the knowledge and strategy to best handle these challenges.
Brett Park commented, "It was a wonderful event and I'm thankful to have been asked to be a part of it. It was great to speak on what I feel is an especially relevant topic given the current economic climate, and hopefully the attendees walked away with some useful knowledge and resources should they ever find their business in financial distress."
FSIA Location Manager Clare Zanger added, "First State Insurance Agency is excited to support the Ignite program. Having grown up in family ran businesses and working with small to large size companies now every day-I know the amount of blood, sweat and tears it takes to run a solid operation. Ignite not only gives great programming and opportunity for entrepreneurs to seek ideas from each other, but they also get direct access to other key parts of their future success-insurance relationships, banking relationships, marketing connections…the list goes on."
Zanger went on to say, "I've genuinely enjoyed getting more familiar with the key programs and treasure chest of tools the SBDC and HREDC have brought to our communities through the hard work of Corey and Maria. We are lucky to have them and excited to see what this platform produces."
Ignite will host a networking event on October 27 from 5:30 to 7:00 at the Sweetwater Distillery in Monroe City. In November, Ignite will host a Women in Entrepreneurship Panel Discussion at Maddie's On Main in Monroe City. For more information on upcoming events, follow Ignite at https://www.facebook.com/IgniteNEMO/ or @HannibalIgnite
The Ignite Program is a partnership between Hannibal Regional Economic Development Council, the Small Business Development Center, Northeast Power, and the Hannibal Chamber of Commerce. Ignite is dedicated to creating an ecosystem that attracts, creates, supports, and accelerates new and existing businesses in Northeast Missouri. For more information, visit www.hredc.com/ignite.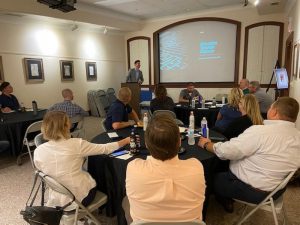 To listen to the full presentation: https://hredc-my.sharepoint.com/:v:/p/sbdc/EXmcaPTxWX9LnJOlDy97EEgBJOyKhtPCEphSVQro0-SPDw?e=ASkzPN